Trennepohl Farms is a diverse family farm operation. For four generations we have prided ourselves on producing some of the finest seed stock genetics and agricultural products anywhere. Through the vision and leadership of our grandfather, Howard, Trennepohl Farms beginnings trace back to some of the greatest bloodlines that the Belgian Draft Horse industry has known. It is that pure bred seed stock passion that has laid the foundation for our success thus far. We are committed to insuring that our proucts will be successful for our customers including livestock, grain, hay and straw. Thank you for your interest in our program.
---Jeff Trennepohl & family, Scott Trennepohl & family, Tom & Judy Trennepohl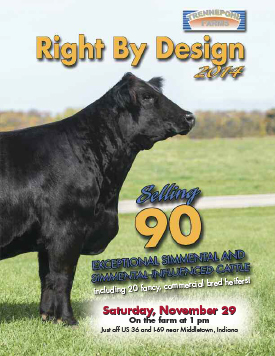 SELLING 75 HEAD -
SIMMENTAL - SIMANGUS
The very best of 2014 calf crop plus
the best bred females we can offer
SEE THEM ANYTIME ON THE FARM!

2014 Right By Design Sale
Click here for more details.
Click here to download sale catalog
Sale Updates and Order
Saturday, November 29
On the farm at 1:00 pm
Just off US 36 and I-69 near Middletown, Indiana
Plan to also attend a great social and dinner the night before

TLLC One Eyed Jack, our recent purchase from the NWSS in Denver, CO. A great young sire with an impressive 9 EPD's in the top 20% of the breed. Check him out on our Sires page!